Replace Your Wig Regularly
The best way to broadcast to the world that you're wearing a wig is to wear an old smelly wig.
Unfortunately, no one has invented a wig that grows new hair yet, so we're stuck with wigs that lose their quality over time. No matter how hard you wish, no amount of wig styling products or cap adjustments can save a wig that's past its prime.
Plan to replace your synthetic wigs every 3 to 6 months and replace your human hair wigs every 6 to 12 months.
Two Words: Rooted. Colors.
Unless you naturally have very dark hair, it's unlikely that your hair is just one color.
Most people have shades of color and gradients throughout their hair.
Your stylist calls those gradients "dimension." We call them "the reason wigs dyed with one flat color look really fake."
Wigs with rooted colors, on the other hand, mimic the natural gradients in bio hair by blending several colors.
Can't find a wig that you like with rooted colors? Look for a wig that is a 'blend' of two colors or ask a stylist to give your wig highlights and lowlights two shades away from the wig's base color.
Look for Lace Fronts and Monofilament Tops
Keira Knightley wore wigs on set and at red carpet events for years, and no one knew she was wearing them until she spoke publicly about her issues with hair loss.
How did she keep everyone in the dark about her hair?
With lace fronts and monofilament tops.
Lace front wigs create the illusion of a natural hairline, making it look like your wig hair is growing right out of your head.
Monofilament tops do the same thing, but for the wig's part. Each hair of a monofilament top wig is individually sewn into the wig, rather than being machine applied. This allows the wig hair to move freely and lets you to part the wig anywhere you want.
Mess Up The Part
When something looks too perfect, especially with wigs. It's usually a sign that that thing is fake. Apparently, wig companies haven't learned this yet. 
Most wigs come out of the box with eerily perfect parts that scream, "This isn't my natural hair!" when you wear them.
As soon as your new wig arrives, take a pair of tweezers and carefully pluck out a few strands. Then, using baby scissors, cut a few strands so that they look like they're just growing out. Last, choose a couple of hairs to place on the 'wrong' side of the part.
Imperfection never looked so perfect.
Check out this quick video on how to make your wig look real!
Trim Your Wig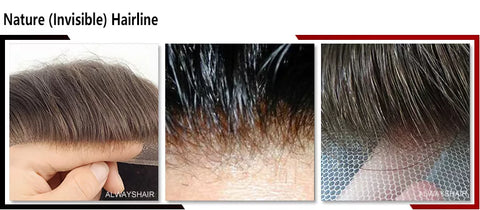 "It is a truth universally acknowledged that a woman in want of a great hairdo must wait for at least two weeks after her haircut for her hair to grow out a little," - Jane Austen Ultimate Looks
Typically, we aren't completely happy with a new haircut until our hair has had the time to grow out a bit. To mimic that natural, grown out look, take your wig to a stylist and ask her to use a razor to cut in some layers or jagged edges.
       6.ALWAYS Line Up Your Wig With Your Natural Hairline
If you don't line up your wig with your natural hairline, your wig will never look natural. That's why it's super important that each time you put on your wig, you take the time to line it up properly.To correctly line up your wig with your natural hairline, first put your wig on your forehead just above your eyebrows.Next, slowly slide the wig back over your head, adjusting as you go, until the bottom of the wig hits the nape of your next.Last, slide the wig forward just a bit until it hits your natural hairline, secure the straps, and style away!