With the end of the pandemic, we also have more need to go out and socialize. But worried about the risk of contracting COVID by going to the hair salon, there is no doubt that wearing a wig at home is a very good option. This saves you money as well as a trip to the hair salon. So how to wear a wig to make the wig look more natural? Malindahair will give you 10 tips below.
Curious to see how it's done? Follow the steps below.
Tip 1: Buy a wig that fits your head
Whether you're going from ear to ear, or from forehead to back of neck, measure your head. Although many wigs have adjustable straps, some wigs come in different sizes. There is a limit to the adjustment of each size, just like shopping for clothes, it is very important to choose the size that suits you.
Tip 2: Pluck Your Wig
Wigs usually look unnatural. Pulling hair along sections of the wig and along the hairline can give a more natural look. The position of the hairline should be made into a gradient effect. If the hair in that section is too thick, pluck lightly to create a more natural-looking section. This will make the entire hairline feel more natural.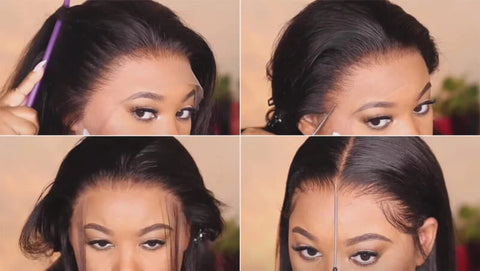 Tip 3: Cut the Lace to Fit Your Face
Adjust the unit until it's placed where you want to secure it later. Make your first cut in the middle of your forehead towards the hairline, being sure not to cut any baby hairs you want to keep.
Tip 4: Blend
Using powder and concealer you already have, lightly brush along the hairline and part. Then you can gently blot or dab the concealer into the lace with a makeup brush or even your fingers to get a more natural-looking hairline. This will blend the lace with the color of your skin to give a more natural look and hide harsh edges.
Tip 5: Flatten Your Natural Hair
The flatter your natural hair, the better your wig will fit. How you flatten your natural hair will vary depending on the length, density, and texture of your hair. Additionally, many women choose to wear a stocking cap or other wig cap to secure their natural hair. The most common way to prepare your natural hair for the perfect lace front wig install includes braids, cornrows, and low buns.
Tip 6: Use 100% Human Hair
The best tip for how to make a wig look natural is to start with a 100% human hair wig. You care for a human hair wig much like your natural hair. Regularly washing and brushing your wig will keep it looking natural and fresh.