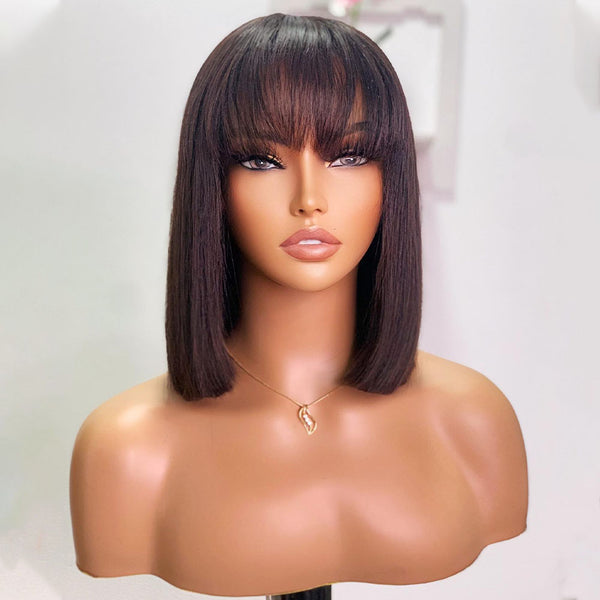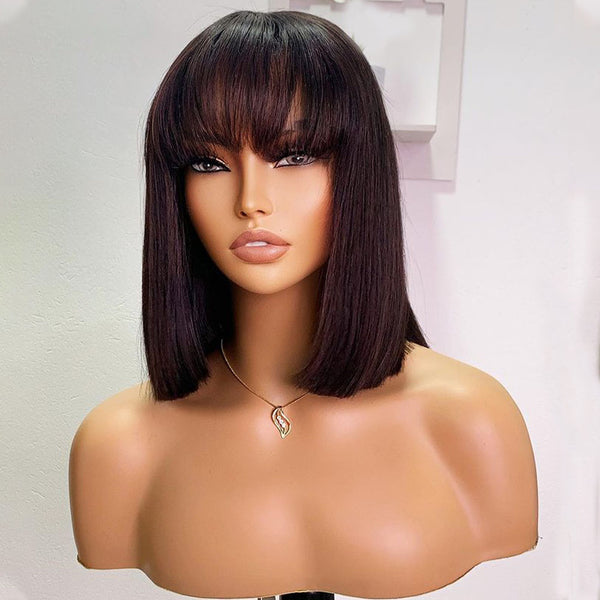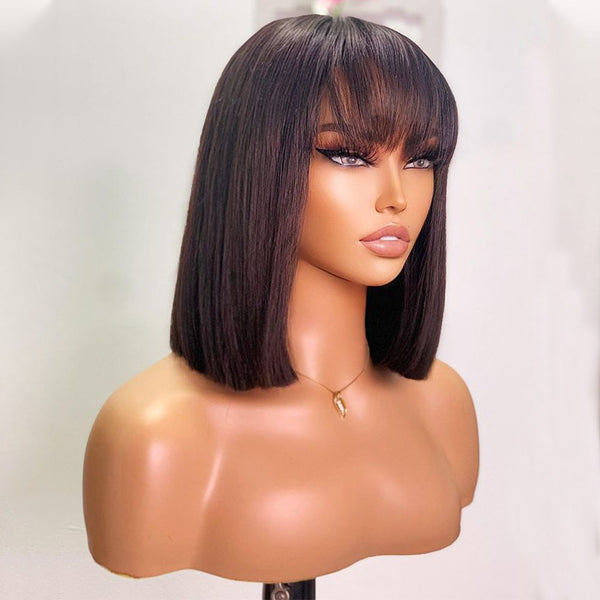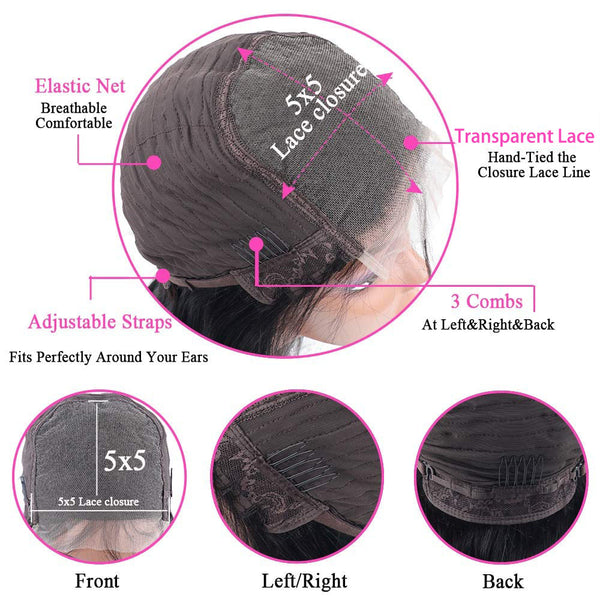 Bone Straight Short Bob 5x5 Transparent Lace Closure Human Hair Wigs With Bangs [MLD195]
Brand: Malinda Hair
Texture: Straight Bob Wig
Hair Density: 150%
Hair Color: Natural Black Color
Lace Type: 5x5 Lace Closure Wig
Lace Color: Transparent Lace Wig
Cap Size:S(20.5-21.5),M(21.5-22.5)
Human Hair Type: Brazilian Virgin Hair
Can Be Permed: Yes Can Be Permed 
Hairline: Pre Plucked Hairline
Baby Hair: Around the perimeter
Made Method: Half Machine Made & Half Hand Tied
Purchase Info
Shipping>>

 

Free Shipping 

worldwide via

 

Express
Delivery time>> USA (3-5

 Bdays

), others (2-5 Bdays)
Payment>>

 

Afterpay, Debit/Credit Card, PayPal
Handling time>> Ship within 3 Days

 

after payment
Returns>> Fast refund,

 

buyer protection
Free Gifts>>

 

Wig cap

,

exquisite Gift Packs
Products Guide
1、Can I ask for small/large cap?
Our stock size is a 22.5" medium with a comb and elastic or adjustable shoulder straps inside. We have received your request, you would like to use a small/large cap for your wig, right? Tips: For full lace wigs and front lace wigs: 1. The size of our full lace wigs and front lace wigs cannot be changed. For closed wigs/bob wigs/custom wigs: 1. Small is 21.5 inches, large is 23.5 inches, you should know your size and make a suitable decision. 2. If you change to those special sizes, you may have to wait another 5-15 days. Would you like to wait? 3. There will be an additional $10 charge for making special sizes for you. Can you accept the above order prompt? If you want to inquire about small/large, please remember to take a note on the cart or email us.
2、Is your hair 100% human hair? What is the grade? Where are they from?
We are selling nice virgin hair, which is natural and nice. It is 100% human hair, and top virgin hair. It is Brazilian hair.
3、Is your wig/hair getting tangled or shedding?
It could be caused by dry hair. Please make sure to wash & condition your hair at least once a week, and twice a week is even better. Brazilian virgin hair needs to be combed from time to time. You could go to your stylist for further suggestions. If the hair is wavy or curly style, which we don't suggest combing it. If you have to, please comb it with hands or a wide-tooth brush gently. Tight-tooth brush will ruin the hair's original shape and make it frizzy and feel like tangled! Please always comb the hair from the ends and work your way up. When you dye the hair with bleach powder, please control the time within 5 minutes. If you dye it with dye cream, you need to control the time within 20 minutes. Otherwise, the hair will be damaged by cream if you leave it too long there, which will lead to shedding. When sleeping, please bond the hair with an elastic band or wear a cap. It will avoid tangling or shapes-changing. After waking up, please remove the band and comb through beginning at the ends and working your way up to the roots. When swimming, we suggest wearing a swimming cap. Because the sea water or pool water is not good for hair, and it will make the hair tangled and rough. It`s better to wash it with warm water, hair shampoo and hair conditioner after swimming.
3、What color is the wig of the lace?
We have the introduction of lace color in each product description. Usually for lace wigs, it's Swiss lace, which comes in medium brown and sheer lace. For an imperceptible full lace wig, it's Top Swiss Lace.
4、Can I go swimming with a wig?
Yes, you can go for a swim with the wig. When swimming, we suggest to wear a swimming cap. Because the sea water or pool water is not good for hair, it will make the hair tangle and rough. It`s better to wash it with warm water, with hair shampoo and hair conditioner after swimming.
5、Does your wig come in bleached?
Our lace wigs are already bleached under the condition that the hair would not shed. If you need more bleaching, you can do it by yourself or ask a hairstylist to help you. For the Upgraded 2.0 undetectable full lace wig, the lace is also slightly bleached, which is more slender and lighter. It can't be deeply bleached , because it is a high risk to broken the lace.
6、Can your hair be dyed? Can you dyed for me?
Malindahair has a factory with more than 20 years of experience in wig production, with superb dyeing technology, we accept color customization services. However, the color of each color is different on the computer or different mobile phones. At the same time, the color of the wig will also have color difference under different lighting, please understand.
7、Can your wig use without glue? Can I make ponytail or bun?
Yes, our wigs are all new type clear lace, their hair is held in place with custom straps and combs at the back. So it's very safe and doesn't move at all. As for a ponytail or bun, absolutely yes, you can do it.
Payment Guide
1、When I pay via PayPal, do I have to have a PayPal account? Can I use credit cards?
PayPal account is not necessary.You can choose the "Pay with Credit Card".
2、Which payment methods can I use?
We accept the payment methods as Paypal and Credit Card. It is not necessary to have a PayPal account to order, you can pay with Credit/Debit Card directly. If you have any payment problems, please contact with us: service@malindahair.com.
3、Why is my card declined?
Sometimes when your card is expired, insufficient balance or poor credit which may have a record of Chargeback or others will lead to card declined when paying. So we suggest customers not take a dispute for no reasons, because your credit record will be affected, and your next shopping will be declined. When your card is declined, you can call your bank for the problem.
4、If I pay on your website, is my information safe?
We are sure that our website is legal , which has been certified by the card organization. So please don`t worry about that. Your payment information is kept by your bank or card organization, but not saved by us. We only use your shipping info for delivery. Your information is safe and we will keep your information confidential.
5、Can you send me an invoice?
Yes, we can send you the invoice if you need, just feel free to contact us via email or Facebook online.
6、How do I use my coupon code?
The purchasing process on our website is: Add to Cart > Checkout > Confirm > Payment. When you are in the process of Checkout or Confirm, you can apply the coupon code.
How to wash and care for wigs?
    

When it comes to wigs, you want to make them look good. You probably already know that you need to clean and maintain them frequently. But you may be wondering how to do this, such as how often and how to choose maintenance products.
    To help you with the daily cleaning and maintenance of your wig at home, we've listed the do's and don'ts. From shampooing to conditioning and how to dry it, we'll cover it all.
    Should I wash my wig before wearing it?
    Different people have different opinions on this issue. Some people like to enjoy the freshness, so they choose to wear them directly. Others prefer their favorite shampoo smell, so they wash it off. However, this may shorten its useful life. Whether it is before or after cleaning, we need to maintain and clean up well.
    How often should I wash my wig?
    For this question, different people may have different choices. It depends on how often you wear the wig and the quality of the wig. If you wear a wig every day, you need to clean it up in time if your hair gets tangled or dry. If you don't wear it regularly, you can wash it once a week or two. Of course, the curvature and color of the wig will also affect its cleaning. If it is a darker wig, you can choose to wash it for a long time. If it is a natural color and a lighter color, it can be washed for a long time. In addition, it should be noted that if the hair is slightly curved, it may become straight after washing. This may require you to use a hot comb or curling iron, depending on you.
    How to clean wig?
Now that you know how often to wash your wig, the next step is to know how to wash it. Here's a four-step cleaning routine with do's and don'ts. let's take a look.
    Step 1: Preparation before washing
    Before cleaning the wig, we first need to comb the hair. You can choose to use a small comb or your hands to separate the knotted hair. Then you can apply conditioner first to wet the wig first. After waiting for a while, we can clean up the wig. It should be noted that don't just throw it into the sink like you do laundry. Doing so will deform your wig and make it easier to lose hair.
    Step 2: Cleaning
    Next is the hair wash. When washing, whether it is long or short hair, it should be washed in the sink along the direction of the hair. It is best to wash with warm water, too hot or too cold will damage the wig. After soaking, apply the shampoo to the palm of your hand and onto the wig. Never wrap it in a pile for cleaning, and never put it in the washing machine.
    Step3: Shampoo
    When choosing a shampoo, it is best to choose a shampoo product that specializes in cleaning wigs. Because this can better prolong the service life of the wig, and it can also not hurt the wig. If not, it is also possible. But try not to use a lot of shampoo at once when washing. It can be used several times in small quantities for better cleaning. Then you can apply conditioner for hair care. It is worth noting that, do not rub hard, just wash gently.
    Step 4: Drying
    When all the cleaning steps are completed, it is the last step. How to make the wig dry, also needs to be used a lot. First, we need to put it on the wig stand, and then slowly dry the moisture with a towel. Try not to use hot appliances to dry the wig, it is best to air dry it naturally. Then you can choose the wig hairstyle you want, and the wig cleaning is complete.
    The above is all the wig cleaning and maintenance process, I hope you can treat your wig better. To make life more enjoyable, start caring for your hair now.